maggentah
After finishing 30 Rock for the second time, I am deciding that I owe tribute to Liz Lemon. I probably won't end up as a head TV writer in New York (as wonderful as that sounds), but I appreciate there's a fictional character who embodies a generation of females so well. We're hungry, lonely, and striving towards feminism, so move out of the way.
1. 
But really… Where are the days when "the line was probably busy," and we could just move on to watching TV. Next.
2. 
Used this sarcastically at Sully's last Friday.
3. 
Backstory: Liz is business drunk in this gif. I too have two thumbs, took three years of French in high school, but unfortunately I laid on my shower floor yesterday and cried so…
4. 
Sounds like my revision of Miley's "I CAAAMMEEE IN LIIKKEEE A RAAAINNBOWWW!"
5.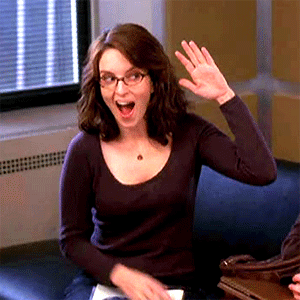 Fuck yeah I high five myself. You…
View original post 169 more words